The beginning of this project was a new experience for us. One that took longer than we planned for and provided plenty of learning opportunities along the way. While we have completed a subdivision before in our Hidden Treasure Renovation, we were stepping it up this time around. The simplest form of a subdivision is to create an empty section, like we had done before. The next option is to add a house on the new site – either building new or relocating. Our decision to relocate a house came quickly, we are renovators at heart and in experience (and the feasibility looked better).
So, adding another element to this project, our to do list now looked like:
Subdivide section into 2 titles
Find a suitable relocatable for the new section
Renovate new relocatable house.
Renovate existing house
Our shopping was about to go to a whole new level - it was time to go house shopping!
My expectations were high, we were shopping for a new home - and shopping is an area that I excel (even with Caleb's budgeting strategies for me). There was some urgency in securing a house – we decided we would do a single consent for both the subdivision and the relocatable house in one application. This meant the consents were on hold until we found our house. Regardless of the time pressure, it seemed to me that this would be a simple process. We were after house with potential and charm, we wanted 3-4 bedrooms and the floorplan to suit our site so we would not have to do any major changes to the house layout.
Shopping for a relocatable house on a 327m2 site proved to be much more of a challenge than we expected! Whilst there are plenty of houses listed online and at yards - with a site our size, it meant that most houses we couldn't even consider because they were just too big. The new section will be approximately 16m deep and 20m wide, so once you allow for setbacks off the boundary – we had quite limited dimensions our house had to be. And when we found a house that did fit on our site, the layout often meant the house wasn't the right fit. Scrolling through listings online, we learnt to go straight to the floor plan. Only IF it fit - would we look at the photos of the property itself.
We found there were plenty of relocatables on their existing sites that were selling at great price (and in some cases for free) - but there were additional costs and challenges with this option. This included paying to move it twice, coordinating timing with the seller and a mover, and paying to store it while the consent process takes place - you never know how long that will take! The alternative is purchasing from a relocatable house yard. In our situation we found that this search was made simpler going straight to the leaders in the house moving industry, Craig Walker Building Removals. On their website is a large range of houses available where you can search with filters based on your requirements, from there we could create our shopping list of houses and view them all at once. We made the trips to Kumeu a fun morning out - making sure there was coffee, playground visits and fresh fruit ice-creams on the way.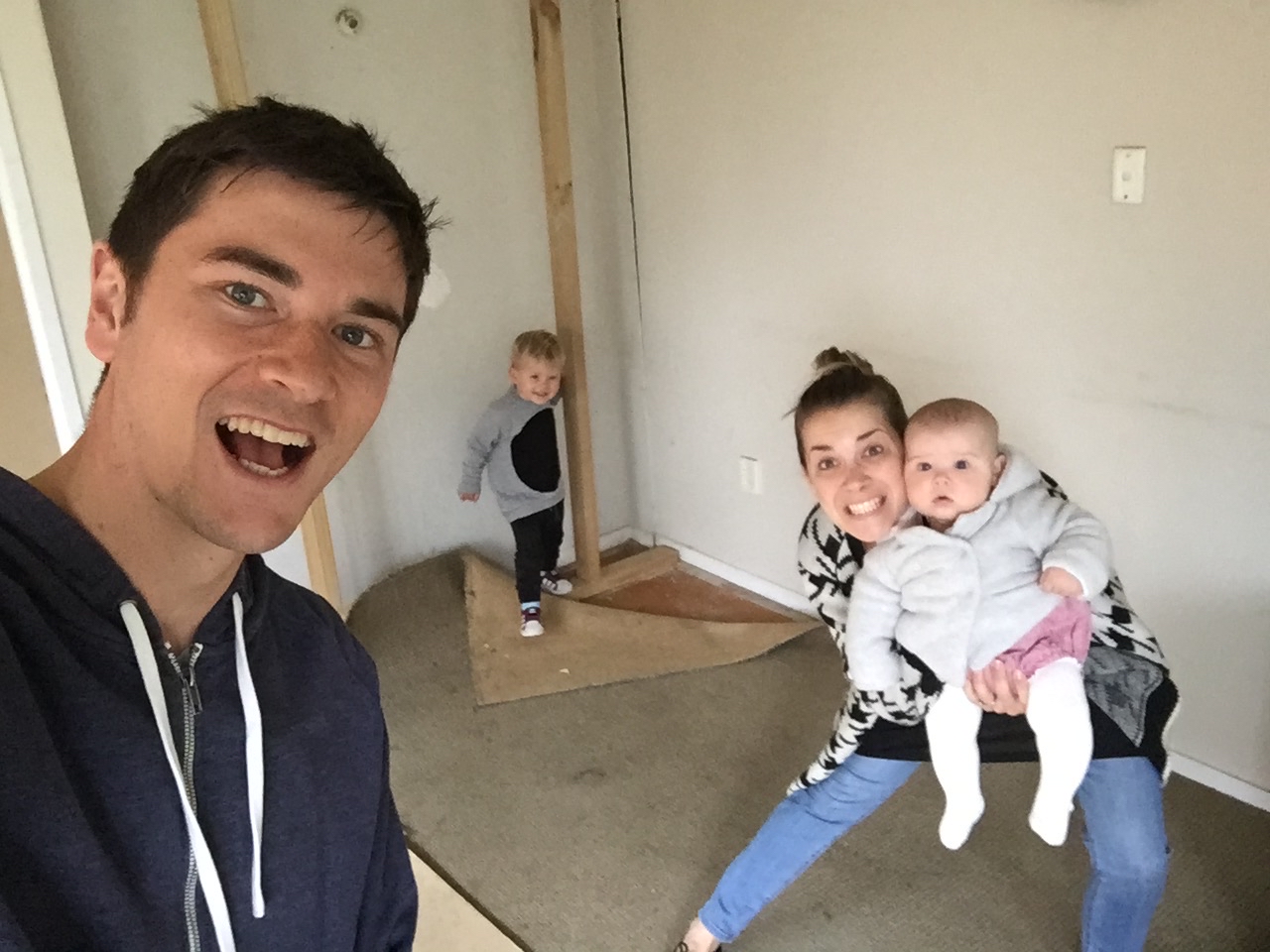 Finally we had some options of houses that would fit on our site. Now it was about picking the house which ticked the most boxes for us. Each house we went into, we considered the following:
Current layout. Does the existing layout of the house work with our site constraints with no or minimal changes. Is the front door in the right place and what will the arrival be like. Is the living space open plan, is the living space north facing. Can we create indoor-outdoor flow. What is the connection to the outdoor spaces. If not, how much work is involved to make these changes. Finding the best layout for us was the priority.
How much work does it need? We knew we would be doing an internal makeover, but hoping to avoid anything major to keep costs down and shorten the programme. We like to tackle renovations that can be done within a few months (we have The Block NZ to thank for that mentality)
Will it meet the consenting requirements. We wanted the consenting process to go smoothly, so looked for houses that would fit within the council rules. Caleb had taken time early on with our engineer to understand the planning rules to meet (setback from boundaries, height in relation to boundaries, site coverage and more) to avoid this risk and search for houses that worked.
Could it be transported easily onto our narrow one-way street? If not we are looking at additional costs to cut house to relocate.
Cost. Does it fit within our budget.
Ultimately, does the house itself has the potential become a stunning home once we have given it some TLC. Does it hold some character and charm, that is going to make it fun to renovate and inspire our creativity.
In a process that took almost 5 months, we found a house on Craig Walkers Building Removals House Yard that met all our requirements. For $59,0000+gst we purchased a 93 sqm 1960s weatherboard bungalow with 3 bedrooms and 1 bathroom. The price listed includes storage while you get your consents, house delivery to your site within the wider Auckland area, and installation on standard foundations on your site. CWBR stored the house on their yard in Kumeu while Caleb got busy with managing the requirements for getting consents in place and finding contractors to prepare the site for the house to be delivered.
We have our relocatable - time to get our site ready for it's arrival! Surely that part will be simple...
For information about Craig Walker Building Removals see below or visit their website.