I love the boldness that's required when you design a kitchen. From small samples you select what will be the complete look of your kitchen. There's no room for changing your mind - once it's installed, it's there for good. With this kitchen we wanted to push our creativity. Our objective was to create a kitchen avoiding the comfort of our "go-to" choices, which revolves around a strong white colour scheme. Thank goodness for Kitchen Mania's 3D photo realistic software that provides a rendered image of your colour and detail selections. Through my showroom consult with their expert team, I found the confidence a select a fresh colour palette and venture into a design style I never have before.
We decided to explore the mid-century style for our kitchen. There are three elements I love about mid-century interior design: the minimal look that focuses on function, the use of bold colour and the integration of different materials. I considered every choice I made in planning this kitchen - as every decision, from kitchen layout to the shape and colour of the sink, works together to achieve a final look.
First, let me put this kitchen into context. Our last kitchen may have looked good but every night we put on our $399 dishwasher, I had to put in earplugs to sleep through the noise. Up to this point our strategy with renovating has been maintaining a tight budget. But with an affordable price point there are always compromises. Ultimately you get what you pay for. Between my two adventurous fruit-obsessed toddlers and my frequent tea-drinking husband, I use the kitchen all day everyday, so compromise was a cost we were no longer willing to pay.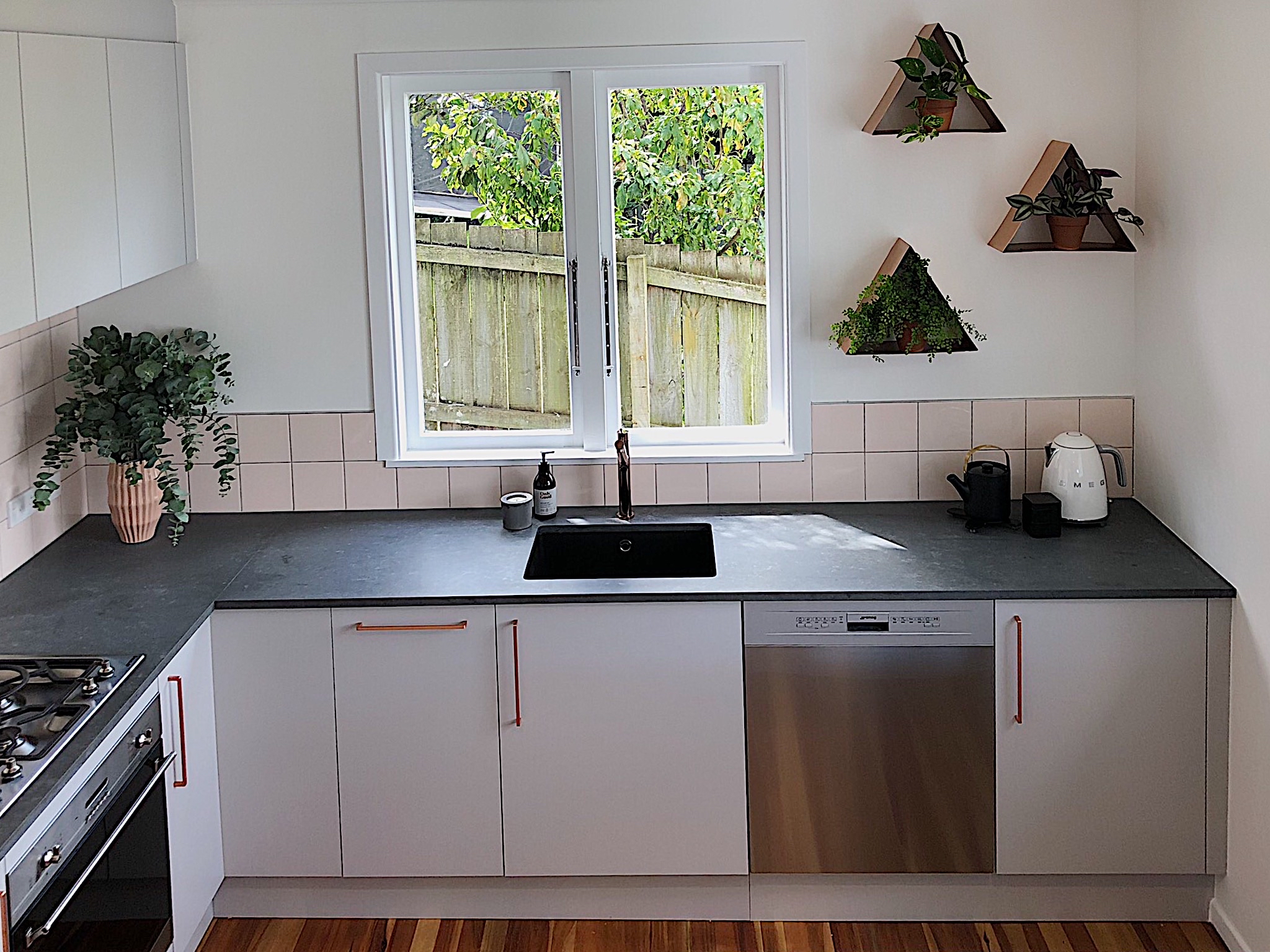 A little more budget goes a long way when it comes to a kitchen. The combination of features from Kitchen Mania like soft closing doors, full height storage and a pull-out rubbish bin makes our kitchen practical and functional. It's satisfying that everything can be put away, especially because our kitchen is open to both the lounge and dining.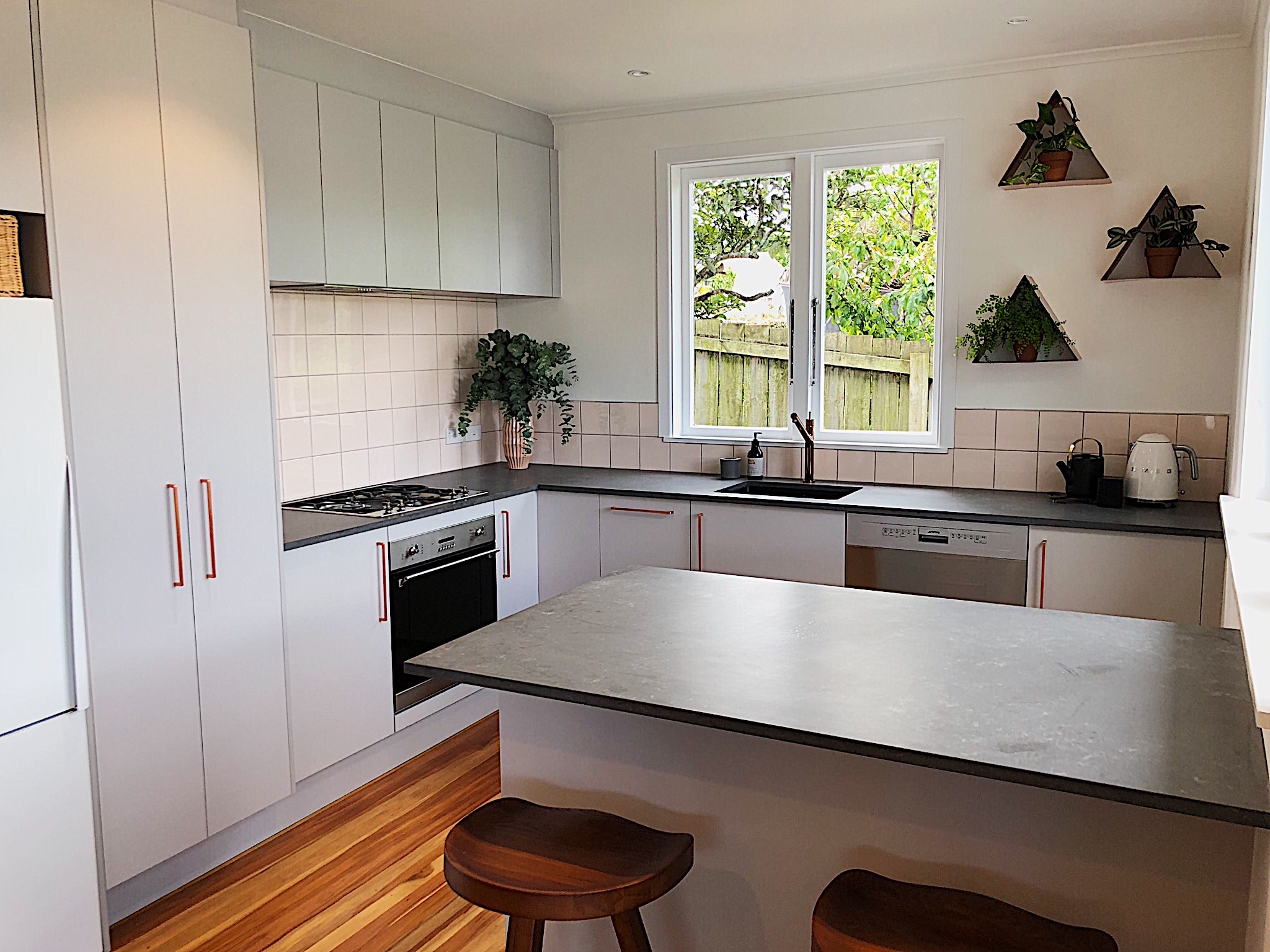 We went with SMEG appliances because they look stunning and are designed for the best cooking experience. Gas was our choice for the cooktop for its benefits in cooking, maintenance and safety. Also it seems gas is the preference for most New Zealand homes, which adds resale value.
For the benchtop we decided on Santamargherita Quartz, an engineered stone from Heritage Hardware. It's heat and scratch resistant, meaning it's durable enough to survive our family! While the most popular choice would be white, Caleb was certain dark would have more impact. So we both agreed on Metropolis Dark which partners perfectly with our undermount sink.
And then there's the kitchen colour scheme! I knew I wanted copper or brass accents as I was inspired by mid-century style. I fell in love with the copper handles and tapware from Heritage Hardware. The light grey cabinetry was a clear choice - with copper accents. Grey compliments strong colours well and has a calming effect. The final addition to our colour scheme was the feature blush tiles for the splashback. It's a retro element and adds colour in an understated way. I think it's obvious, I'm a fan.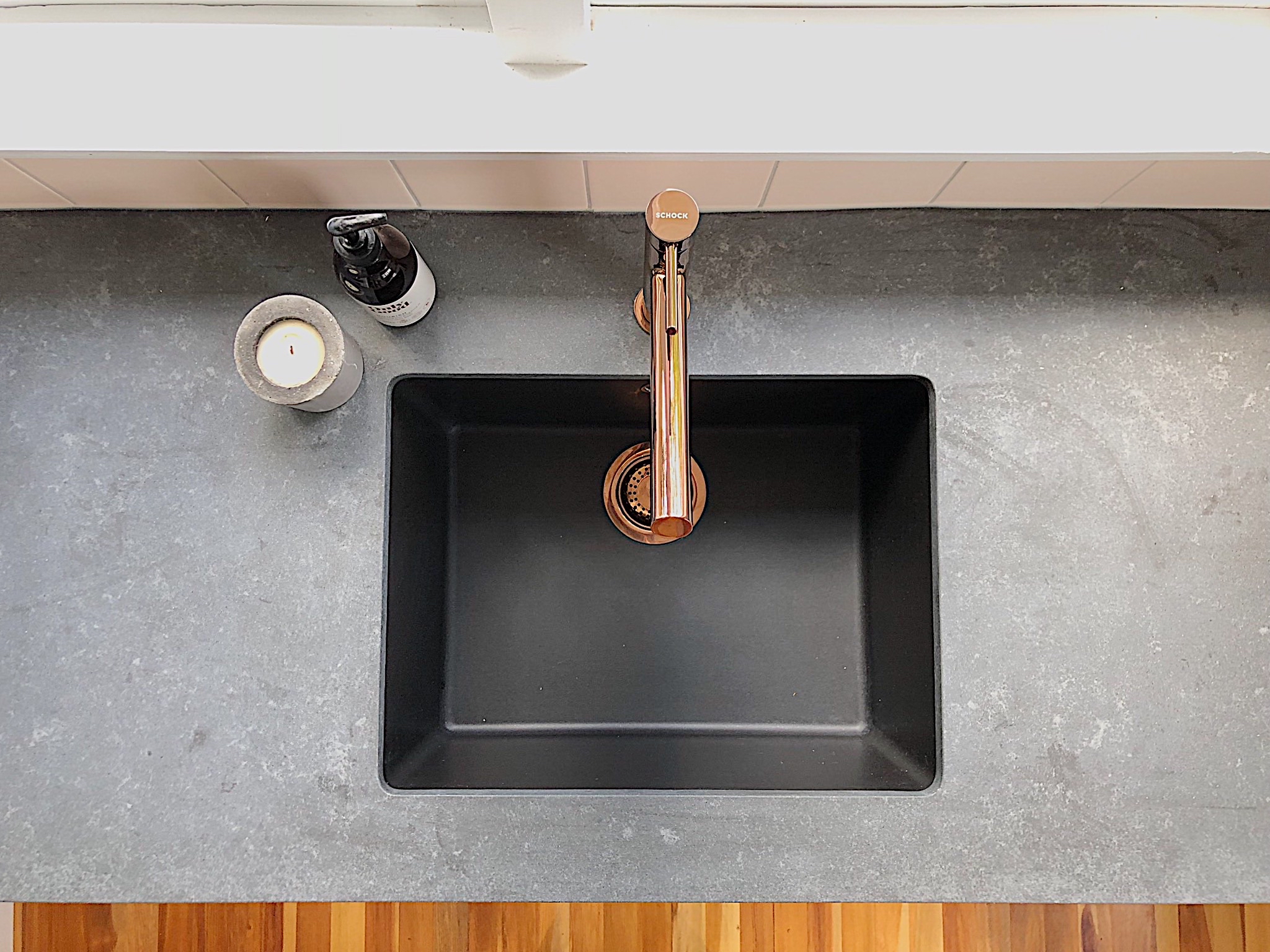 As usual we have a summary of all the costs and design details listed below. It's important to note that tradesman breakdowns are not exact. It's an estimated split from overall work on the house. All prices include GST.
Cost + Supplier Overview
Kitchen Cabinetry by Kitchen Mania $11,710
Kitchen Delivery and Install by Kitchen Mania $1,760
Bench Top Slab by Heritage Hardware and Installation $6,783
Appliances by SMEG $5,700
Sink, Tapware, Waste and Handles by Heritage Hardware $2,625
Plumbing and Gas by Steel Plumbing $1,725
Painting (including preparation and spray hire) from Guthrie Bowron $1,900
Electrical by Pro-Spec Electrical $1,725
Floor Sanding by Active Floor Sanding $550
Splashback, tiles from Tile Clearance Centre $250
Total Cost: $41,630
This blog was brought to you by our favourite's in the kitchen industry. While we may collaborate with them now, we started using their services well before we were Pearson + Projects.
Kitchen Mania are a family business, who take care and pride in delivering quality kitchens that work within most budgets and design styles.
We don't recommend them because we have to, we recommend them because we want to. This is our fourth kitchen with kitchen mania, and it certainly won't be our last.