The Brief: Take Christopher's brand-new open plan kitchen and dining space with light laminate floors, light grey walls and cabinetry and add his own interior style. Source the perfect dining table, chairs and stools. Add colour and texture. Install some blinds or drapes for privacy. Find the right artwork to the blank walls. Order some great appliances to the kitchen.
The Kitchen Appliances were the priority for the budget. We selected a white Samsung "Kiwi Edition" Fridge that is made just for the standard NZ kitchen specifications, with a sleek black microwave and front loader washing machine. Not only did Noel Leeming deliver these products, but installed them all and took away all of the boxes. I went with De'longhi Argento Flora Kettle and Toaster in Peppermint Green to add a bit of colour too.
The Furniture in the kitchen and dining was a chance to add the industrial look to the space and some colour. We selected a gorgeous table from Cintesi which has a reclaimed timber table top and striking black metal base. To match, we went for the moss green dining chairs and bar stools.
The Wallpaper was a must for this space. It was a strong way to introduce the industrial style and worked perfectly with the rest of the interior colours. We selected a white brick pattern from We Love Wallpaper. It was 'Paste the Wall' wallpaper, so I could install it by myself within a few hours. On top of the brick pattern, we went with bold print of a Christchurch Map I purchased from Pango & Ma.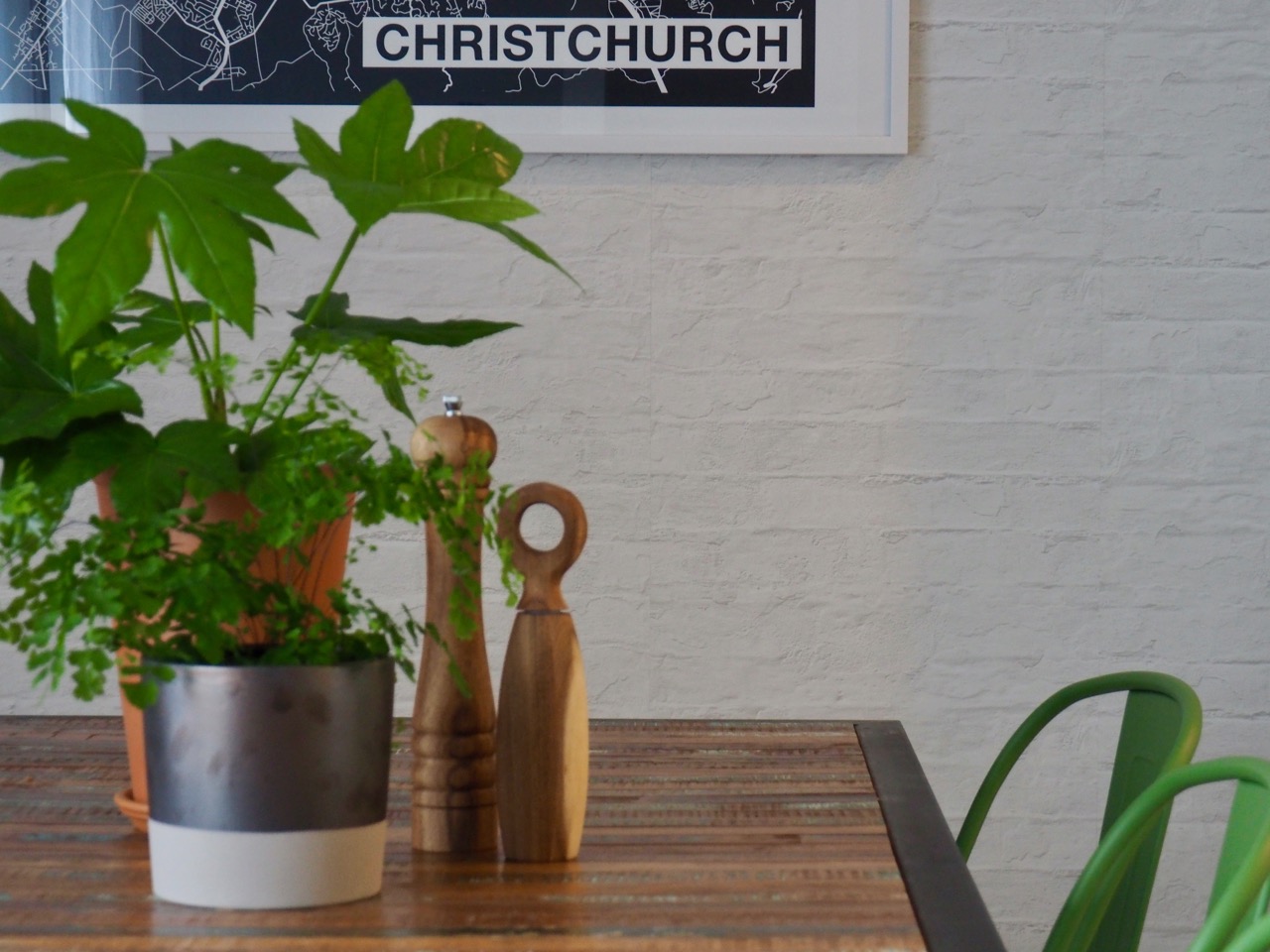 The Black Block Painted Wall was the answer to the large wall behind the breakfast bar. I measured out the size I wanted it, taped up the area and painted it in Resene "Black". Then added simple (and affordable) black elements, a clock, wall shelves and the felt board. Adding a large piece of art on this wall would have been expensive, but this was a great alternative which added impact but was also practical.
Wallpaper WHITES & NEUTRALS Wallpaper Pattern No 25747 from We Love Wallpaper
Artwork City Map Art Prints by Pang & Ma
Dunstan industrial dining table from Cintesi
Tolix Replica Chair - Moss Green from Cintesi
Tolix Replica Bar Stool - Moss Green, 65cm from Cintesi
Samsung 336 Litre Fridge Freezer from Noel Leeming
Samsung 32 Litre Black Stainless Microwave from Noel Leeming
Delonghi Argento Flora Toaster and Kettle from OnceIt
Black Feature Wall Painted "Black" by Resene
Clock from Briscoes
Shelves from Freedom with plants from Bunnings
Felt Board from Kmart
Chopping Board from Nood
Pot Plants from Bunnings
Wooden Salt and Pepper Holders from Nood